Michael Ricotta, CEO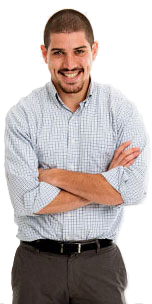 With more than a decade of industry experience, Michael Ricotta is a veteran in operations. As Director of Technology for Axxiem Web Solutions and EVP of Technology for Blue Fountain Media, Michael has built and managed more than 4 teams of developers. His teams have ranged from 2 to 30, spanning 10 countries, and 20+ spoken languages. Michael's success is evident in his history of building teams and applications through acquisition by companies like Litera and Blackstone. Notable for his hands-on re-defining of standard operating procedures and automation, Michael is an industry innovator.
In addition to co-founding DadsTie.com and Memri.ai, Michael was the creator of several affiliate program applications as well as Arcane's DevOps tool and the Lean Framework. Michael's own workflow models for resource allocation, estimation, and employee quality control continue use at other agencies to this day. Since 2013, Michael has also been a public figure in the industry, appearing on television networks such as CNBC, Fox Business, and Bloomberg. His media appearances and interviews for publications such as CIO magazine and Business Insider may be found on this site. You are likely to see Michael in the media, once again, as Arcane begins to expand its products to market.
Michael Ricotta is an alumnus of The College of The Holy Cross and accomplished athlete.  He was born in New York, enjoys playing guitar and football, and considers himself a t-shirt enthusiast. Michael believes in a moral obligation for leadership to promote positive workforce values and accountability. You may also learn more about Michael Ricotta and view his portfolio on his personal website, http://www.michaelricotta.com.