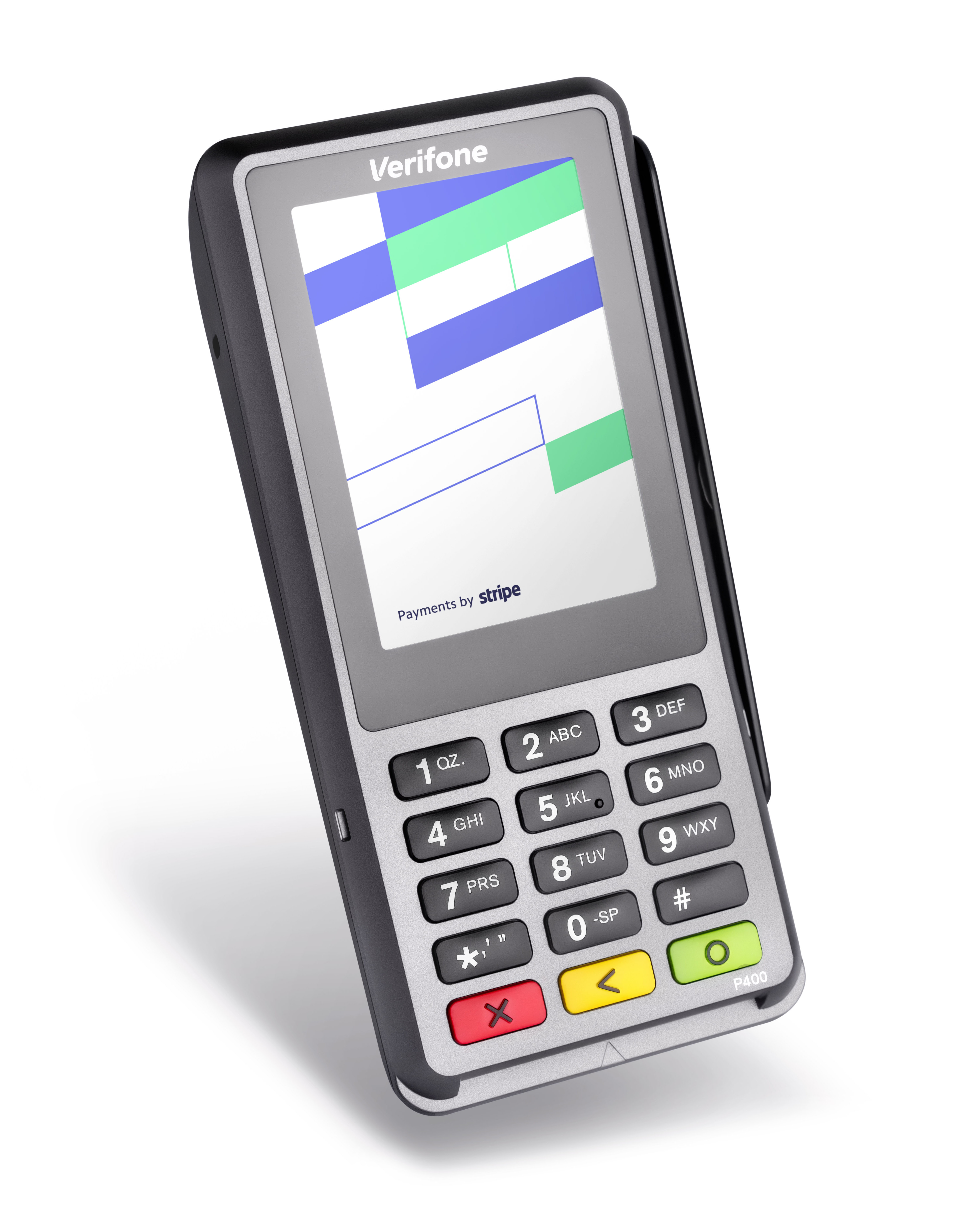 Download our latest plugin for WooCommerce with Stripe for the Verifone P400 Stripe Terminal
This enterprise plugin will convert your WooCommerce store-front into a point-of-sale checkout portal when used with the Verifone P400 Stripe terminal. It requires WooCommerce plus WooCommerce Stripe Gateway plugin version 4.2+, by WooCommerc/Automattic.
Your annual subscription will provide you with this current version of the plugin and support for all minor releases.
Installation and Use
After purchasing the plugin, you'll be provided a URL to download the package. Unzip the package to your plugins directory and enable it. If you do not receive a link, please contact support.
Make sure your terminal is turned on and connected to the internet.
On the plugins page, select "Settings". To set up a reader, click the "Add Reader" button and type in the registration code on your terminal (07139). Hover over the tooltip for instructions.
To complete reader registration, enter the registration code (typically a string of words separated by hyphens) into the prompt on your settings page. Save your changes and you're done!
You must be logged in as a WooCommerce store manager (ie. admin) in order to enable the Terminal on the frontend.
While logged in, navigate your customer through the checkout experience. You'll be given the option to select the terminal reader icon to process accordingly.
After selecting the terminal option, press the button for the reader you set up during installation.
Credit card prompts will expire after 30 seconds but may be manually canceled by hitting the "Esc" key on your keyboard.
Release Notes:
This plugin permits for 1 "location" with multiple readers.
The checkout procedure remains the same but will now offer you a Stripe Terminal option, which only requires you to select the Terminal option and click to open your reader.
In order for the terminal option to be available, you must be logged in as an authorized WordPress administrator or Store Manager (otherwise all your site visitors would see it).
Subscription purchases are not available since this requires login by an administrator to be available (subscriptions are attached to registered/logged-in customers).
This plugin may encounter issues with the "Merge + Minify + Refresh" plugin and other compile and minify production asset plugins.

If problems are encountered, simply deactivate your minification plugin, reload the page, then reactivate the minification plugin to rebuild the cache with the new files.

The Verifone P400's action buttons (red, yellow, green) are currently non-functional. As soon as Stripe and Verifone make these programmable, they'll be implemented into this plugin.
PRO Version: Coming Nov 2019
Locations management (multiple locations each maintaining multiple readers)
Ability to use the terminal as a customer, not requiring admin/manager login. This is done by maintaining an "in-person" location relative to the network.
Ability to collect and import customer data
Support for pre-dipping cards for faster purchases
Stripe and WooCommerce Subscription purchases